Този сайт може да постави "бисквитки" във вашия компютър с цел да подобри вашето персонално посещение. Моля прочетете нашата политика за поверителност за да научите повече за бисквитките.
Firmware Update Software for RICOH G900
Firmware Update Software for RICOH G900
| | |
| --- | --- |
| Name | Firmware Update Software for RICOH G900 |
| Registered name | g900_v101.zip (zip type file 18,279 Kbytes) |
| Applied product | RICOH G900 |
| Updated firmware file | Zip type (For Windows/Mac) |
| Release date | 2019/10/31 |
| Copy right | RICOH IMAGING COMPANY, LTD. |
How to check the firmware version
[1] Turn ON the camera.
[2] Press MENU button.
[3] Operate 4-way button and display 4/5 page of the [Setup menus]
[4] Operate 4-way button and select [Version Info] then press 4-way button right.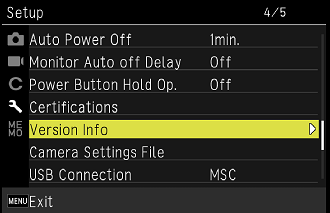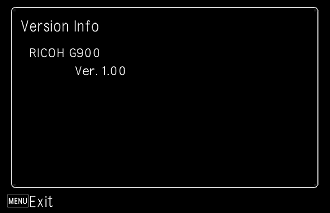 [5] The firmware version for camera is displayed on the [Version Info] screen.
Preparation of update
RICOH G900 camera body.
A blank SD memory card which is formatted by RICOH G900 (32MB or more)
Computer with a SD card slot.
<Windows>
Windows® 10 (32bit/64bit) / Windows® 8.1(32bit/64bit) / Windows® 8(32bit/64bit) / Windows® 7(32bit/64bit)
<Mac>
macOS v10.14 Mojave / macOS v10.13 High Sierra / macOS v10.12 Sierra / macOS v10.11 El Capitan / OS v10.10 Yosemite
*If the computer does not have a SD card slot, SD card reader / writer is required.
Fully charged battery (DB-110) or AC adapter kit K-AC166.
*Be sure to use fully charged battery. If the camera turns off during updating due to lack of battery power, the camera will become inoperable. If this happens, a charge will be made for repairs even if within the warranty period.
Download the updated firmware file
For Windows/Mac: g900_v101.zip 18,279 Kbytes, zip type


Updating Procedure
[1] Provide a formatted SD memory card for the update software.
The download file is compressed file, so that it needs to be extracted. The following file is extracted file.
FWDC349P.BIN: This is the updated firmware

Copy the above Firmware file [FWDC349P.BIN] to the root directory of the SD card.
[2] Insert the battery into the camera and confirm the battery is full by battery level indicator then turn the camera off.
[3] Insert the update SD card (prepared in step 1) into the camera and close card cover.
[4] Press

+

buttons at same time.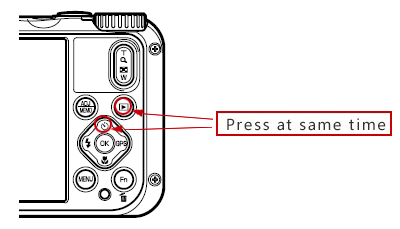 [5] [Update the camera firmware] is displayed
 Select [Execute] by 4-way button and press [OK] button.
[6] The firmware update will start and [Updating] is displayed.
 *Do not turn OFF the camera while updating.
[7] When update is completed, [Update completed] will be displayed
[8] Turn OFF the camera and remove the SD card from camera.
 *Confirm the version of firmware with above [How to check version].
За сваляне
zip
Firmware Update Software for RICOH G900
17.9 MiB